JESUS, THE LORD IS OUR SHEPHERD
JESUS, THE LORD IS OUR SHEPHERD
I am the Good Shepherd. The Good shepherd risks and lays down His [own] life for the sheep. (John 10:11)
When we read this chapter in the Book of John, Jesus relates in detail that He is the path, the door, to righteousness and everlasting life. Jesus states that the way to the Father is through Jesus and that no one can approach God without acknowledging the Son. This point is brought home, again in John 5:23 ÷all men may give honor (reverence, homage) to the Son just as they give honor to the Father. [In fact] whoever does not honor the Son does not honor the Father Who has sent Him. 24. ÷..the person whose ears are open to My words and believes and trusts in and clings to and relies on Him Who sent Me has eternal life. And he does not come into judgement but he has already passed over out of death into life. Therefore, Jesus indeed is the Way to eternal life and to success in our present lives. Long before Jesus became flesh, God had foretold the coming of the Promised Seed, the Messiah, who would one day come to earth in order to deliver mankind from sin and condemnation.(Genesis 3:15; Psalm 16; Psalm 111; Isaiah 43:1-4 & 6-7). The Promised Seed was mentioned way back in the Book of Genesis to Abraham, God's Faithful Servant. However, this had been a sacred secret concealed from mankind for many Centuries before Jesus was made manifest. In fact, Jesus was originally referred to as The Word. Thus Jesus in close relationship with God Almighty, Yahweh, had been His Father's spokesperson. This had not been revealed to mankind until Christ came to earth, as Stated in John 1:1 In the beginning was the Word (Christ) and the Word was with God÷ And later in the same book of John and chapter,: And the Word became flesh (John 1:14).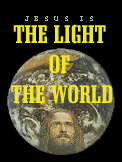 The importance of our homage and honor to Jesus must not be overlooked or minimized. We can see from the preceding that Jesus is the Fine Shepherd who has been with the Father since early beginnings and that He leads us to waters of everlasting life. Also, due to Jesus' sacrifice all people are given the opportunity to be in close relationship with God through Jesus Christ. As it is written in Philippians 2::8-11, And after He had appeared in human form He abased and humbled Himself and carried His obedience to the extreme of death, even the death of the cross. 9.Therefore God has highly exalted Him and has freely bestowed on Him the name that is above every name. 10.That in the name of Jesus every knee should bow in heaven and on earth and under the earth 11. And every tongue confess and acknowledge that Jesus Christ is Lord, to the glory of God the Father.

When considering that the world is filled with myriads of religious denominations and Groups which all claim to be true worshipers of God and who also claim that their religion Is the right way to worship God it becomes clear that such claims really contradict the Bible. Jesus indicates that He is the Way and that He is the Fine Shepherd who leads his flock to green pastures (Psalm 23). Therefore, if Jesus is the Source of our salvation why do so many people flock to a range of religions to worship God? Rather, should not all who accept Christ as their Saviour follow Jesus, the Fine Shepherd? Is not Jesus, whom God has indeed approved and anointed, the direct Representation of God's Glory? Therefore, we can only place our implicit faith and Trust in Jesus who is faithful and true. Only Jesus can direct us and teach us according to God's Word all that we need to learn. We rely on Christ daily to sustain us and to protect us from the attacks by the enemy, Satan. We do not look to men to lead us whether they are clothed in religious garb or whether they claim to represent the Truth. Rather, we rely on Jesus to lead us to prosperity and everlasting Life. We are taught by Holy Spirit as to what is the Truth found in God's Word. As Jesus had told his disciples, the Holy Spirit would be sent, following Jesus' death, to teach His followers all things pertaining to God John:14:26)Clearly, we are to look to Christ by way of God's Holy Spirit to train us and to guide us in all things. Nowhere in the Bible, does it read that we are to follow a man or a group of men, nor an organized religion. The latter is all contrived by humans and does not truly serve the purpose for which it was created by men, only God and Jesus are Divine. They are the origin of our very existence and the completion of our journey toward perfection. We were all made in God's image and yet, Adam and Eve had strayed from God's reflection. Consequently, man's fall Into sin had corrupted the image which had been once created so perfectly by God and His Son. Jesus, however, through His sacrifice had restored this image, if we accept Christ as our Lord and King. As we continue in our walk with God we grow closer and closer to the image of God's Glory. Also, through Jesus' death we have become coheirs with Him. We have inherited Peace, Joy and Love that only God can bestow and, of course, eternal Life. Hence we have become Sons of God along with Christ.

Therefore, may we all follow Jesus the Fine Shepherd who is in charge of our lives and who guides our steps so that we will not falter and stray from God. We Worship God through Christ, and through no one or nothing else. God expects exclusive devotion and complete loyalty as wonderfully demonstrated by His Son, Jesus. Likewise, we are to offer praise to Christ Jesus in recognition of His exalted position which He now holds, sitting at the Right Hand of God in Heaven. God the Father directs us to bow down to His Son in acknowledgment of His authority and to kiss the Son lest God be angry and we perish in His way. May we never become distracted as to where our Heritage and focus lie. God ought to be always at the centre of our worship and devotion. Jesus told his disciples that everything the Father has had been given to Him by the Father and that, in turn, Jesus gives His belongings to anyone He wills. If we wish to share in Christ's inheritance then may we follow Christ wherever He leads and be Christians in deed and not just in word.